Custom Bridal Gowns & Alterations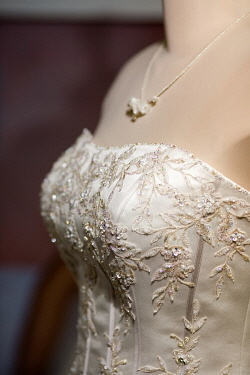 Custom Bridal Gowns
Of all the decisions you need to make for your wedding, none is more important than choosing the perfect wedding gown; but if you're not inspired by the gowns in the shops, let Vivian create a one-of-a-kind bridal gown just for you! Simply bring in a photo from a magazine or a drawing of your own design. Vivian will suggest the perfect fabric, then design and create that garment for you. It will fit you perfectly because it will be made for only YOU.
Wedding Gown Alterations
Already have have that perfect gown? Let Vivian make sure it's the perfect fit.
You can trust Vivian for expert services wedding gown alterations, including:
Beading
Lace Work
Fine Fabrics
Vivian's expert alteration services include:
Hems
Custom Fitting
Bead Work
Lace Work
Bustle Trains
Custom Veils
Wedding Party Dressmaking & Alterations
Vivian can take care of all the other ladies in your wedding entourage, too ... whether custom dressmaking or alterations.
Bridesmaid Dresses
Flower Girl Dresses
Mother of the Bride Dresses
Mother of the Groom Dresses
Wedding Gown Preservation
Preserve your treasured wedding gown with expert services from Vivian.